Harris LF, Kakani PR, Selah CE. Actinomycosis. Surgical aspects.
Am Surg.
1985; 51:(5)262-264
Jung C, Wagner J, Heine B Successful outpatient management of pelvic actinomycosis by ceftriaxone: a report of 3 cases.
Dtsch Med Wochenschr.
1999; 124:1066-1070
https://doi.org/10.1055/s-2007-1024483
Koren R, Dekel Y, Ramadan E, Veltman V, Dreznik Z. Periappendiceal actinomycosis mimicking malignancy report of a case.
Pathol Res Pract.
2002; 198:(6)441-443
https://doi.org/10.1078/0344-0338-00279
Pérez-López F, Tobajas JJ, Chedraui P. Female pelvic actinomycosis and intrauterine contraceptive devices.
Open Access J Contracept.
2010; 1:35-38
https://doi.org/10.2147/OAJC.S7476
Radu CC, Camarasan A, Podila CM, Perju-Dumbrava D. Sudden death of a teenager caused by Actinomycosis Israelii: a case report.
Iran J Public Health.
2018; 47:(9)1413-1418
Sánchez Hernández JAS, Merado Carrillo NA, Chilaca Rosas F, Rivera Tapia JA. Use of the IUD associated with secondary infection by Actinomyces in the female genital tract.
Rev Esp Patol.
2004; 37:383-390
Spagnuolo PJ, Fransioli M. Intrauterine device-associated actinomycosis simulating pelvic malignancy.
Am J Gastroenterol.
1981; 75:(2)144-147
Stringer MD, Cameron AE. Abdominal actinomycosis: a forgotten disease?.
Br J Hosp Med.
1987; 38:(2)125-127
Valour F, Sénéchal A, Dupieux C Actinomycosis: etiology, clinical features, diagnosis, treatment, and management.
Infect Drug Resist.
2014; 7:183-197
https://doi.org/10.2147/IDR.S39601
Actinomycosis: a case report of two patients treated for the condition who required stoma formation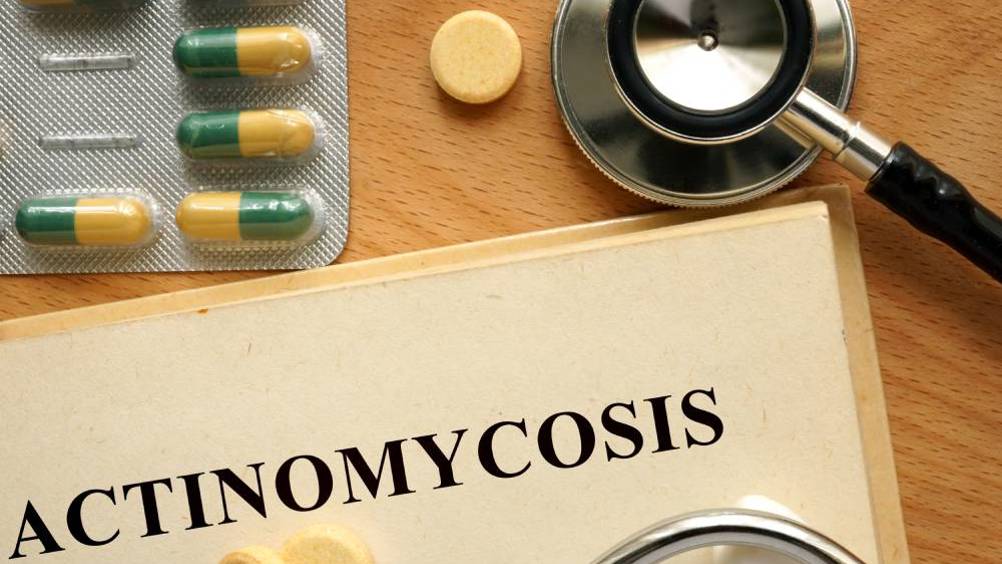 Abstract
Actinomycosis is a rare bacterial condition that is seen infrequently and no studies have examined its prevalence or incidence globally. The author, a stoma care clinical nurse specialist (CNS), found herself caring for two such patients 3 weeks apart, both of whom were diagnosed with pelvic actinomycosis. Both patients had been fitted with copper intrauterine devices (IUDs) 10 years previously and were not aware that leaving IUDs in situ for a prolonged period increased their risk of infection. This article gives an overview of the condition, with discussion around the two patients the author cared for within her own specialty; not all aspects of the condition are included as the she has no clinical experience in microbiology and is not a gynaecological CNS. The case studies show how both women presented and were treated, with interventions including emergency surgery, long-term antibiotic therapy and stoma formation. Pelvic actinomycosis is often associated with the use of an IUD, and greater awareness about the risk of leaving IUDs in situ for prolonged periods is needed among gastrointestinal, colorectal and gynaecological practitioners.
Actinomycosis is a rare, insidious disease (García-García et al, 2017). It occurs slowly (Wagenlehner et al, 2003) and subtly, but with harmful effects. To date, no epidemiological studies have been undertaken to determine its prevalence or incidence across the world (García-García et al, 2017). Centres and institutes globally appear to have encountered small numbers of patients with actinomycosis over many decades; clinical cases have been reported in Africa, Oceania, Asia, Europe and America. Some clinicians may never see it in their entire medical career (García-García et al, 2017).
Actinomycosis is a chronic bacterial infection caused by Actinomyces spp., which are Gram-positive, anaerobic bacteria (García-García et al, 2017), ie bacteria that do not require oxygen for growth. The bacteria spread by direct extension across tissue planes creating multiple abscesses, sinus and florid granulation tissue as they encroach on new tissue (Sung et al, 2011). This follows a breach in the normal mucosal barrier (García-García et al, 2017). Destruction of the mucosal barrier can occur through injury or trauma, surgery, inflammatory bowel disease or immunosuppression (Jung et al, 1999). Mucosal destruction allows the pathogen to cross the mucosal membrane or epithelial surface (Sánchez Hernández et al, 2004) and penetrate deep inside the tissue (Jung et al, 1999), where it proliferates and grows.
Register now to continue reading
Thank you for visiting British Journal of Nursing and reading some of our peer-reviewed resources for nurses. To read more, please register today. You'll enjoy the following great benefits:
What's included
Limited access to clinical or professional articles

Unlimited access to the latest news, blogs and video content