Ahmadian L, Dorosti N, Khajouei R, Hajesmaeel Gohari S. Challenges of using Hospital Information Systems by nurses: comparing academic and non-academic hospitals.
Electron Physician.
2017; 9:(6)4625-4630
https://doi.org/10.19082/4625
Ajibade B. Knowledge and attitude towards the introduction of informatics to nursing training among selected nurse educators/leaders in Nigeria.
IOSR Journal of Dental and Medical Sciences.
2013; 9:(5)01-07
https://doi.org/10.9790/0853-0950107
Factors affecting nursing staff use of nursing information systems in residential aged care homes. 2015.
https://tinyurl.com/y4p2ew7j
(accessed 7 June 2022)
Johnson RL, Morgan GB. Survey scales. A guide to development, analysis, and reporting.New York (NY): Guilford Press; 2016
Kahouei M, Mohammadi H, Majdabadi H Nurses' perceptions of usefulness of nursing information system: a module of electronic medical record for patient care in two university hospitals of Iran.
Mater Sociomed.
2014; 26:(1)30-34
https://doi.org/10.5455/msm.2014.26.30-34
Kipturgo MK, Kivuti-Bitok LW, Karani AK, Muiva MM. Attitudes of nursing staff towards computerisation: a case of two hospitals in Nairobi, Kenya.
BMC Med Inform Decis Mak.
2014; 14:(1)
https://doi.org/10.1186/1472-6947-14-35
McGonigle D, Mastrian K. Nursing informatics and the foundation of knowledge.Burlington (MA): Jones & Bartlett; 2021
Samuël P. Advantages and disadvantages of nursing information systems in intensive care. In: Roger FH, Willems JL, O'Moore RR, Barber B (eds). Berlin: Springer; 1984
Topkaya SG, Kaya N. Nurses' computer literacy and attitudes towards the use of computers in health care.
Int J Nurs Pract.
2015; 21:141-149
https://doi.org/10.1111/ijn.12350
Yoder ME. Computerized nursing information systems: benefits, pitfalls, and solutions. In: Saba VK, Pocklington DB, Miller KP (eds). New York (NY): Springer; 1998
Nurses' knowledge of and attitude to nursing information systems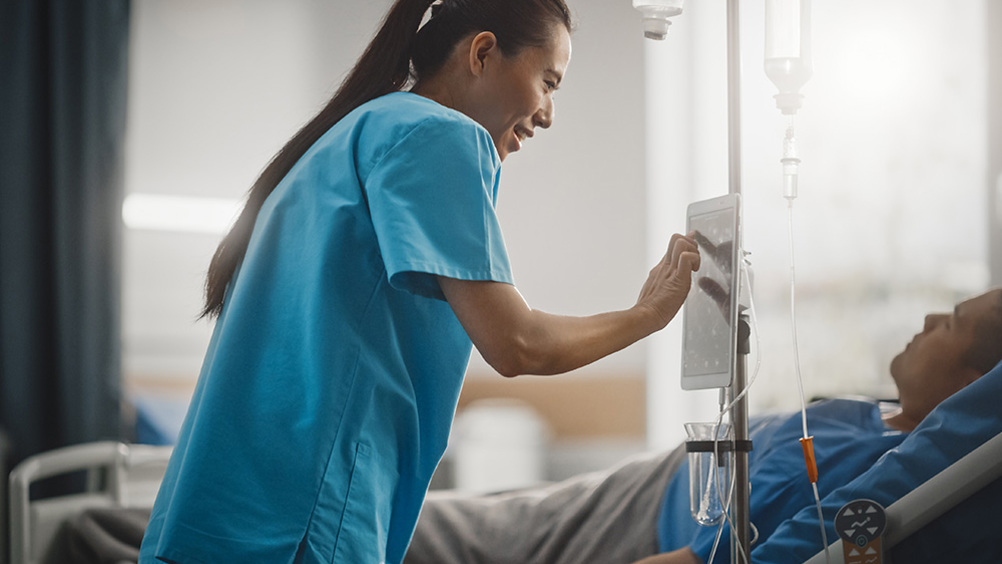 Abstract
Background:
The use of a nursing information system (NIS) provides significant benefit to the nurses in the management of real-time patient data and contributes to improving the operational effectiveness of nursing services.
Aim:
To assess the knowledge of, attitude towards and use of an NIS.
Methods:
A prospective cross-sectional study was carried out among 230 hospital nurses in India, using a validated questionnaire including demographic characteristics, and questions on knowledge of, attitude towards and use of an NIS.
Findings:
The study found that more than 70% of nurses had good computer skills and knowledge about the information system. About 75% of the nurses reported that the NIS could be a tool to support them in improving patient care, and medical documentation, although 42% claimed that the use of NIS depersonalises nursing care. Seventy-one per cent of the nurses expressed the need for formal education and training on using an NIS during and after their nursing education.
Conclusion:
Training and demonstration of NISs during nurse education would improve nurses' knowledge, build confidence and positive attitudes, and enhance the acceptability and sustainability of NISs in healthcare settings.
Nursing in healthcare institutions in India, as in many others countries around the world, includes the independent and collaborative care of sick, disabled and injured individuals, not only to promote their health and wellbeing but also to prevent ill health and cure disease. Nursing roles also include education and research, promoting a safe healthcare environment, participating in shaping health policy and advocacy (International Council of Nurses, 2002). Nursing can be seen as both an art and a science—using both the heart and the mind. Nurses work around the clock with the patient and play a vital role in healthcare. Nursing's fundamental values are evident in patient assessment. They do not just look up test results, but instead, through the application of logical principles in the nursing process, they judge and integrate the objective data with the subjective experience of a patient's biological, physical, and behavioural needs to ensure every patient has the best possible care irrespective of who they are or where they may be. The roles and responsibilities of nurses can differ from decision making in critical care to providing inoculations in schools. Due to the wide range of specialisations in the nursing profession, each will have its own particular strengths, skills and proficiencies (World Health Organization (WHO), 2019).
Register now to continue reading
Thank you for visiting British Journal of Nursing and reading some of our peer-reviewed resources for nurses. To read more, please register today. You'll enjoy the following great benefits:
What's included
Limited access to clinical or professional articles

Unlimited access to the latest news, blogs and video content