Skin assessment in adults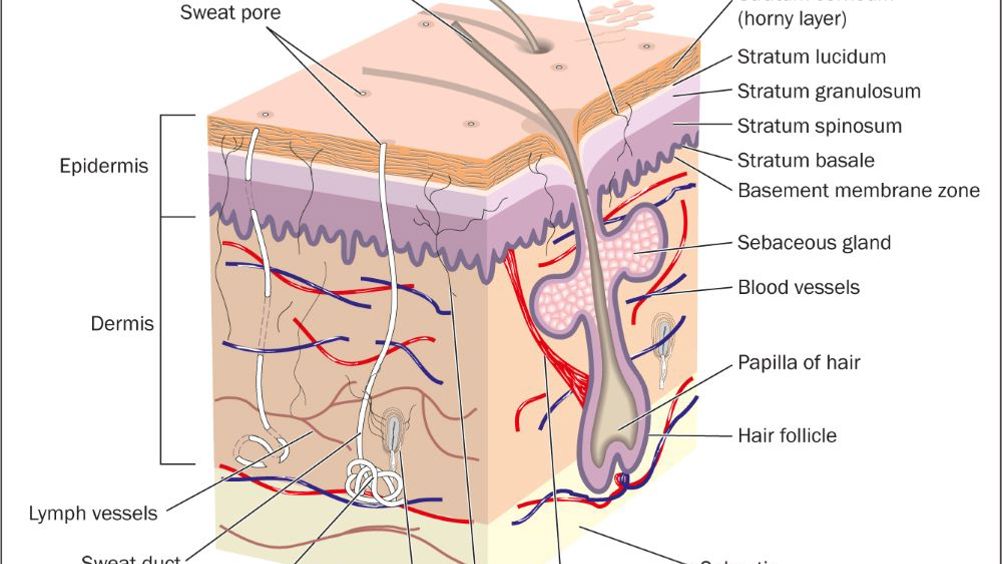 Abstract
The skin has often been described in fictional literature as the window to the soul. It is the largest organ in the body and integral to both physical and psychosocial health. A complete skin assessment is essential for holistic care and must be completed by nurses and other health professionals on a regular basis. Providing patients and relatives with information on good skin hygiene can improve skin integrity and reduce the risk of pressure damage and skin tears.
The skin is the largest organ in the body, accounting for 15% of all bodyweight. It is integral to both physical and psychosocial health and can have an impact on patients' quality of life (Wounds UK, 2018). In a healthy individual, the skin is strong, resilient and has a remarkable capacity for repair. It consists of three layers (Figure 1). The epidermis, the outermost layer, provides a waterproof barrier, the dermis lies beneath the epidermis, has a rich blood supply and contains tough connective tissue, hair follicles, sweat glands and sensory nerve endings; the hypodermis (deep subcutaneous tissue) is made of fat and connective tissue.
The skin has many functions, including:
It also provides a good window into patients' health and wellbeing (Moncrieff et al, 2013).
Damage can occur if the skin becomes vulnerable to external and internal injury due to ageing and altered physiology (Moncrieff et al, 2013). Changes to the skin can be extrinsic, for example pressure, shear or friction, or there may be environmental damage. The latter could be caused by regular detergent use or sun exposure. Intrinsic factors can also have an effect on the skin, for example psoriasis, atopic eczema or an underlying illness. The ageing process has a significant effect on the skin: it becomes thinner, losses elasticity and moisturising factors, the blood supply is reduced and there is a decrease in the amount of fat under the skin (Moncrieff, 2013). This can result in the skin becoming fragile, vulnerable and dry (Kottner et al, 2013).
Register now to continue reading
Thank you for visiting British Journal of Nursing and reading some of our peer-reviewed resources for nurses. To read more, please register today. You'll enjoy the following great benefits:
What's included
Limited access to clinical or professional articles

Unlimited access to the latest news, blogs and video content