Darr A, Mughal Z, Siddiq S, Spinou C. Development and evaluation of an interprofessional simulation workshop on assessment and management of tracheostomy and laryngectomy emergencies.
Journal of Surgical Simulation.
2016; 3:13-22
El-Sayed IH, Ryan S, Schell H, Rappazini R, Wang SJ. Identifying and improving knowledge deficits of emergency airway management of tracheotomy and laryngectomy patients: a pilot patient safety initiative.
Int J Otolaryngol.
2010; 2010
https://doi.org/10.1155/2010/638742
Health Foundation. New safety collaborative will improve outcomes for patients with tracheostomies. 2014.
https://tinyurl.com/88peby5s
(accessed 8 June 2021)
Hennessy M, Bann DV, Patel VA Commentary on the management of total laryngectomy patients during the COVID-19 pandemic.
Head Neck.
2020; 42:(6)1137-1143
https://doi.org/10.1002/hed.26183
McDonough K, Crimlisk J, Nicholas P, Cabral H, Quinn EK, Jalisi S. Standardizing nurse training strategies to improve knowledge and self-efficacy with tracheostomy and laryngectomy care.
Appl Nurs Res.
2016; 32:212-216
https://doi.org/10.1016/j.apnr.2016.08.003
McGrath B, Lynch J, Wilson M, Nicholson L, Wallace S. Above cuff vocalisation: a novel technique for communication in the ventilator-dependent tracheostomy patient.
J Intensive Care Soc.
2016; 17:(1)19-26
https://doi.org/10.1177/1751143715607549
National Confidential Enquiry into Patient Outcome and Death. On the right trach? A review of the care received by patients who underwent a tracheostomy 2014.
https://tinyurl.com/49y8y2pu
(accessed 8 June 2021)
Tran K, Cimon K, Severn M, Pessoa-Silva CL, Conly J. Aerosol generating procedures and risk of transmission of acute respiratory infections to healthcare workers: a systematic review.
PLoS One.
2012; 7:(4)
https://doi.org/10.1371/journal.pone.0035797
Emergency management of neck stoma patients during the coronavirus pandemic: a national nurse survey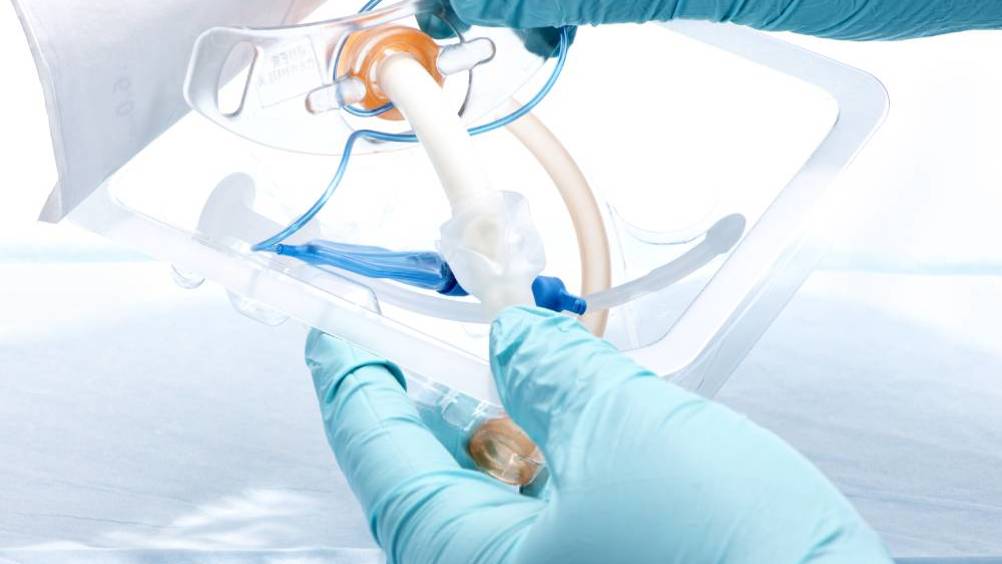 Abstract
Background:
Neck stoma patient care involves significant clinical complexity. Inadequate staff training, equipment provision and infrastructure have all been highlighted as causes for avoidable patient harm.
Aims:
To establish the perception of knowledge and confidence levels relating to the emergency management of neck stomas among UK nurses during the COVID-19 pandemic.
Method:
A nationwide prospective electronic survey of both primary and secondary care nurses via the Royal College of Nursing and social media.
Findings:
402 responses were collated: 81 primary care and 321 secondary care; the majority (n=130) were band 5. Forty-nine per cent could differentiate between a laryngectomy and a tracheostomy; ENT nurses scored highest (1.56; range 0−2) on knowledge. Fifty-seven per cent could oxygenate a tracheostomy stoma correctly and 54% could oxygenate a laryngectomy stoma correctly. Sixty-five per cent cited inadequate neck stoma training and 91% felt inclusion of neck stoma training was essential within the nursing curriculum.
Conclusion:
Clinical deficiencies of management identified by nurses can be attributed to a lack of confidence secondary to reduced clinical exposure and education.
Caring for patients with a neck stoma involves significant clinical complexity for healthcare staff, and is complicated by the fact that most have limited exposure to training on the care of these patients during undergraduate and postgraduate education. This situation is further complicated by the multi-specialty care such patients receive, with no fixed care setting to enable continuity. Safe and effective patient care is dependent on efficient, experienced and confident staff. Landmark studies have consistently highlighted failings in care provision, with themes relating to inadequate staff training, equipment provision and infrastructure, leading to avoidable patient harm and mortality (McGrath et al, 2012). Critically ill patients represent two-thirds of all new tracheostomies performed, with the remaining third undertaken by head and neck surgeons, predominantly for airway obstruction and cancer surgery (McGrath et al, 2012).
Additionally, over the past 15 months or so, global healthcare has experienced an unprecedented surge in the number of critically ill patients with COVID-19 requiring mechanical ventilation as a result of the coronavirus pandemic. The requirement for prolonged periods of ventilation in those who survive, means that many are considered for tracheostomy in order to de-escalate patients from ventilatory support and maximise already depleted resources. The pandemic has also provided additional challenges and concerns through the aerosol-generating nature of neck stomas (Tran et al, 2012). These challenges exist not only during the intra-operative period, but also in the immediate postoperative period.
Register now to continue reading
Thank you for visiting British Journal of Nursing and reading some of our peer-reviewed resources for nurses. To read more, please register today. You'll enjoy the following great benefits:
What's included
Limited access to clinical or professional articles

Unlimited access to the latest news, blogs and video content